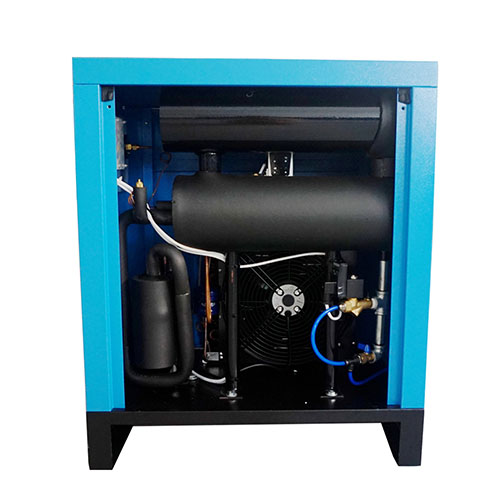 Working Condition And Technical Data
1.PDP:2-10℃
2.Capacity:1.2~400m3/min
3.Max.inlet temperature:80℃
4.Refrigerant:R134a or R407℃
5.Max.ambient temperature:40℃
6.Min.ambient temperature:5℃
7.Working pressure:≤1.3Mpa(13bar)
8.Cooling type:Air-coolingor Water-cooling
---
DR series
1.Copper tube heat exchanger Evaporator and condenser with anti-corrosion treatment.
2.Simple and reliable design,stable discharge pressure dew point2-10℃
3.Advanced control systems,equipped with a pressure gauge,high and low overpressure,overload protection indicating.
---
technical parameters
: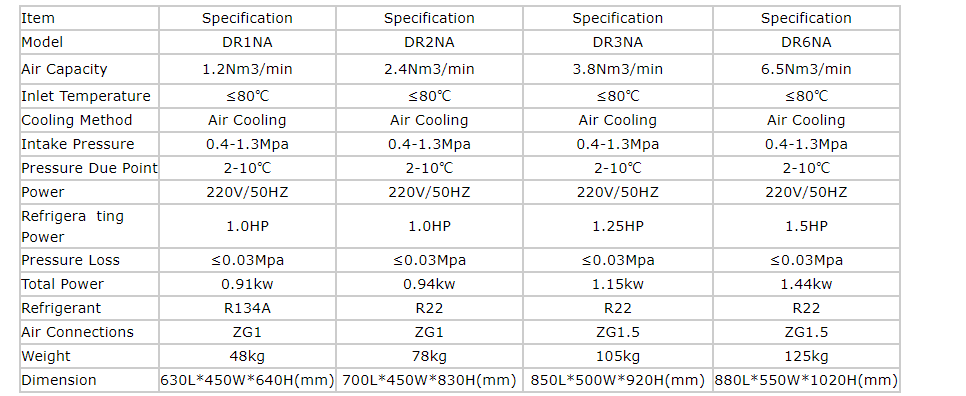 ---
The conditions of the qualified drying system:
*Purge System Selection should be based on rated pressure of air compressor. Air Dryer's Model Selection should be based air inlet temperature, rated air flow, rated pressure and ambient temperature.

*Air Dryer's Type Selection should be based on the dryness, which relate to the discretion of dew point. Quantities of stages of air liters and type selection should be based on the discretion of oil content index and dustiness index.

*Pipes conguration and materials of pipes' conrmation should be base on dew point, oil content and business index.

*Install the self-cleaning lter to protect the air compressor, assurance the purifying effect while working in the environment with large amount of dust.

*Compressed air purifying process is the process of drying and ltering meanwhile it is also a process of temperature decreasing. Temperature takes a key role during the process of purifying as inlet temperature and ambient temperature directly impact the effect of drying and purifying.

*Air receiver tank also is an important part of a whole compressed air system. Air receiver tank should be installed between air compressor and air dryer, air dryer and air consumption location because air receiver tank has the effect of stabilizing air, cooling dirty and air storage.

*System should add the waste oil collector, collecting the oil then drain out the water which reach environment requirement to the river.
---
Workshop show: